FRAY BENTOS PORT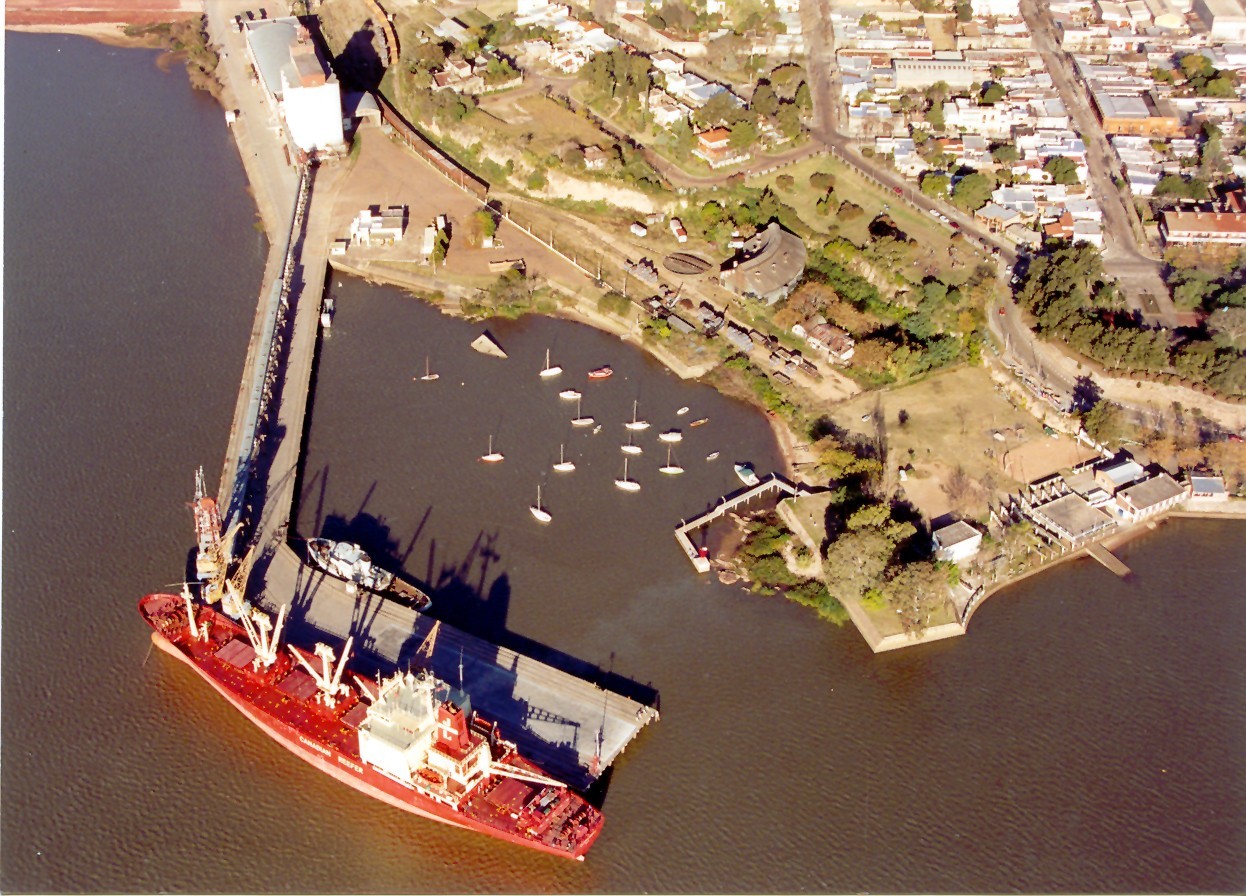 Department of Río Negro. Km.95 River Uruguay. Lat 33º6'S Long 58º9'W
General description:
Situated on the left bank of the River Uruguay, 213 n.Miles by river from Montevideo and 145 n.Miles from Buenos Aires. In 1976 a bridge was inaugurated, spanning the river at km 101 and linking Uruguay with Argentina. The bridge is 5366 m long and the centre span is 220 m with a clearance of 40 m above the river. To arrive at Fray Bentos from the River Plate, ships normally proceed via the Martín García Channel. From km 0 of the River Uruguay there are two passes, Paso Márquez and Paso Barrizal, with a depth of about 19 ft at zero. Both passes are of silt. A safe draught for navigational purposes is dependant on prevailing river water level and is ussually around 21 ft.


Berths for ocean going vessels:
At Fray Bentos, port facilities consist of an "L" shaped pier built of reinforced concrete offering two berths, together with a grain elevator, connected by conveyor belt to the first section of the pier. The first section of the pier runs out from the store in a westerly direction, is 200 m long, 22 m wide, fitted with railway lines and is equipped with an overhead grain conveyor belt which runs from the elevator situated at the head of the pier. A railmounted loading tower receives the grain from the conveyor belt and can be positioned as required in front of the hatches to be loaded, a chute being lowered from the tower out over the vessel for that purpose. Loadrate about 200 TPH. Elevator storage capacity 20.000 tons. This quay is also used for loading other cargoes, nowadays principally citrus, although of course to some extent loading is hampered by the pillars supporting the overhead conveyor belt and which are stepped onto the quay.
| | |
| --- | --- |
| Bunkers: | Only by truck from Montevideo. |
| Repais: | Only minor repairs can be effected. |
| Fresh water: | Available. |
| Medical aid: | Available. |